The effects of a TBI don't end after hospitalization. Years of medical treatment may be required, and the victim may still suffer lifelong problems.
The brain injury lawyers at Zucker & Regev, P.C., can help victims and their loved ones hold negligent parties accountable.
Learn how our Brooklyn, NY, law firm can help you with your traumatic brain injury case...
About Traumatic Brain Injury
Facts You Should Know
Traumatic brain injuries are more common than you may realize. The Centers for Disease Control and Prevention (CDC) have released some
important facts and statistics
that put the risks in perspective.
A Common Cause of Injury
The CDC recorded more than 2.87 million emergency room visits and hospitalizations related to traumatic brain injuries in 2014. There was a 54 percent upward trend in these cases from 2006 to 2014.
A Common Cause of Death
According to the CDC, 56,800 people died due to traumatic brain injuries in 2014. To put that number into perspective, this means that an average of 155 people died every day as a result of a TBI.
Risks to Children and Seniors
The rates of TBI were highest among senior citizens age 75 and older. In addition, 812,000 minors age 17 and younger were treated for the condition in American emergency rooms in 2014.
Types of Traumatic Brain Injuries
Different Kinds of Head Trauma
Traumatic brain injuries come in different forms and produce different effects and symptoms. Some of the most common kinds of TBIs that people experience include:
Concussions
A concussion is caused by blows to the body or head, or from whiplash-like injuries. The impact causes the brain to jolt and shake violently within the skull. Concussions are the most common type of TBI.
Chronic Traumatic Encephalopathy (CTE)
Chronic traumatic encephalopathy (CTE) is a degenerative brain condition caused by multiple head traumas. The condition develops in people who suffer numerous concussions, such as football players in the NFL.
Brain Contusions
When the brain is shaken, it may strike the interior of the skull and develop a bruise. This is known as a brain contusion. If bruises develop on opposite sides of the brain, this is known as a coup-countrecoup injury.
Diffuse Axonal Injury (DAI)
As the brain is jarred within the skull, the motion can tear the long nerve fibers of the brain known as axons. This is a diffuse axonal injury (DAI) and could lead to a coma and persistent vegetative state.
Penetrating Head Injury
Penetrating head injuries are a particularly violet type of trauma in which the skull is not just fractured but breached by an object. This type of severe skull trauma could result in damage to the brain.
Speak with Our Personal Injury Attorneys
Schedule a Free Consultation
A traumatic brain injury can be life-altering, both for the person who sustained the injury and their loved ones. This is why the Law Firm of Zucker & Regev, P.C., in Brooklyn takes these cases so seriously.
Gary A. Zucker has practiced law in Brooklyn since 1984 and has built a strong reputation in personal injury and medical malpractice litigation. He is a member of the Brooklyn, New York State, and American Bar Associations; the New York State Trial Lawyers Association; and the American Trial Lawyers Association. Guy S. Regev is a medical doctor who practices law. He is a Fellow of the American College of Legal Medicine and a Diplomate of the American Board of Legal Medicine. These are distinctions held by only a select group of medical doctors who also hold legal licenses.
If you live in New York City and have symptoms of a TBI or have a family member recovering from a TBI, we encourage you to contact our brain injury lawyers online or call:
Respected Brain Injury Attorneys
Who Put the People of Brooklyn First
These are the best lawyers in Brooklyn. I was in really bad shape and had no where to turn to. The staff is so friendly and supportive. I had a really great result with my case and would recommend them to anyone who needs a malpractice attorney.
View On Google
The staff here is wonderful from the front office staff to the back staff Gary is a wonderful lawyer very knowledgeable and upfront. Guy is also another lawyer there / doctor which is pretty awesome to have a doctor and a lawyer on a case, especially a case that involves medical malpractice. They are all professional and welcoming which is great because walking into a law office can be pretty intimidating.
View On Google
Common Causes of Brain Injury
Slips and falls are a major cause of head trauma and brain injuries. According to the CDC, 48 percent of all emergency room visits for traumatic brain injury are the result of a fall. Falls were common among seniors age 65 and older as well as children younger than 17.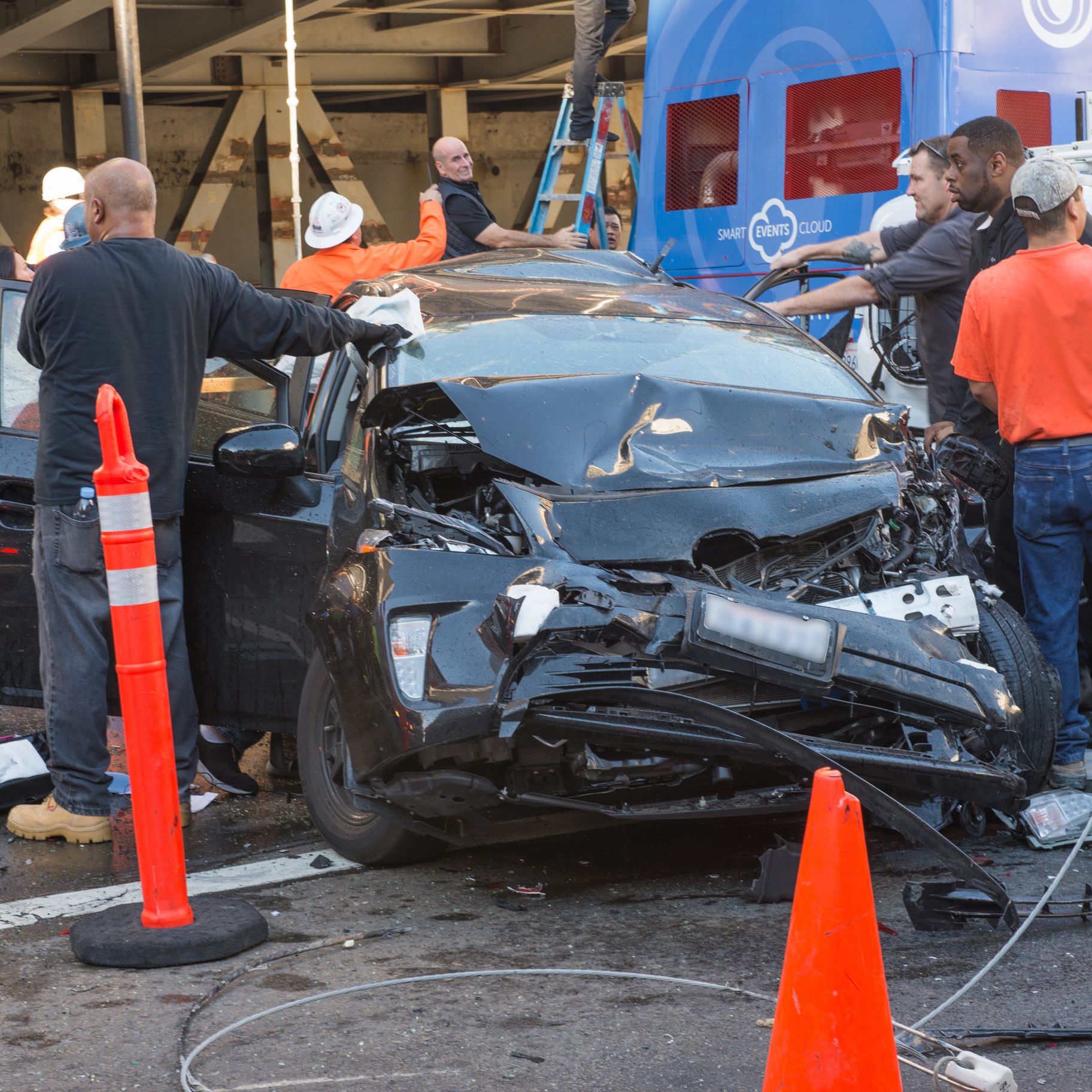 The force of impact in a car accident or motorcycle crash causes all sorts of bodily harm, including traumatic brain injuries. The dangers are present even for those wearing seatbelts and helmets. The CDC notes auto collisions are the second leading cause of TBI hospitalizations.
Constructions workers have a high risk for brain injuries given their susceptibility to falls and the dangers of being struck by objects at a work site. While hard hats and other protective gear will limit the severity of an injury, TBIs are still a major hazard at construction sites.
Sports Injuries
Athletes in contact sports and combat sports suffer repeated blows to the head and body. Repeated forceful impacts could result in concussions. Suffering multiple concussions over the course of a career increases the risk of CTE and other kinds of debilitating brain damage.
Discuss Your Brain Injury
with Personal Injury Attorneys Who Care
Brain injuries have lifelong repercussions for the person with a TBI and their loved ones. Legal representation from the Law Firm of Zucker & Regev, P.C., in Brooklyn can help cover the medical bills and other hardships caused by a traumatic brain injury.
In a career spanning more than three decades, Mr. Zucker has worked on countless personal injury and medical malpractice lawsuits for Brooklyn families. This dedication contributed to an AV pre-eminent rating from Martindale Hubbell as well as multiple appearances in annual editions of New York Super Lawyers. Both a doctor and a licensed attorney, Dr. Regev is a member of the American College of Legal Medicine, the American Association of Justice, the New York State Bar Association, the New York State Trial Lawyers Association, and the New York County Lawyers Association.
You need a New York City law firm that looks after you and your family. Message our brain injury lawyers to discuss your case. You can also call:
Brain Injury Lawyers Who Will Fight
for Accident Victims in Brooklyn
I researched medical malpractice law firms in New York City and came across this one. My father was injured and I wanted to make sure we found the best attorneys we could. The staff were all so friendly. The whole process was painfree and my father was able to get a very substantial settlement for his injury.
View On Google
These attorneys are very professional and helped me win my case in an expeditious fashion. We got a big verdict for my severe injury and I am extremely satisfied with the outcome. I would recommend anyone who is looking for an attorney to go to Zucker & Regev.
View On Google
Why You Need a Brain Injury Lawyer
Our Team Is Here for You
If you or a loved one has suffered a brain injury as a result of someone's negligence, it's crucial that you speak with
an attorney at our Brooklyn law firm
. Working with a brain injury lawyer is
crucial for establishing fault and holding the negligent party accountable
.
An Objective View of Your Case
A brain injury attorney can discuss the details of your TBI and determine if there is a lawsuit worth pursuing. This professional insight is crucial to avoid wasting your time and resources pursuing litigation without a sound foundation.
Knowledge of Brain Injury Laws
Our brain injury lawyers bring years of knowledge to your lawsuit. We can note similar brain injury cases as well as various statutes that bolster your case. This legal wisdom improves the chance of a fair settlement or favorable verdict.
Compassion, Guidance & Peace of Mind
The litigation process can be emotionally fraught, and the stress is compounded if you or someone you care about is dealing with the realities of a brain injury. Our attorneys offer much-needed peace of mind that helps clients move forward.
A Trusted Personal Injury Law Firm
Here to Help the Injured and Their Families
I am very pleased with my result. I would highly recommend them to other people. They fight hard to hard to get the best result!
View On Google
I had a family member and Gary Zucker and Guy Regev did a great job with this case. They are compassionate and competent attorneys. They are very responsive to clients and will answer every question you may have.
View On Google